Happy Days in China

Day after day during my recent trip to China I did not want to fall right to sleep when others in the house turned in for the night. My heart was overflowing with praise to God. I closed the washroom door behind me and knelt down Ė songs of praise for what He had done poured forth. Truly, He is an amazing God who understands the needs and the hurts of each one individually. One woman who is in leadership in a group of rural house churches would experience excruciating arthritic pain often. She had yearned for healing for years and as my prayer partner and I prayed with her she received it. No more pain. What was involved in the prayer time? She forgave her husband for his part in her 7 abortions and God gave her the names and gender of each child whom He was looking after now. She asked God for forgiveness for the sin of fornication with her husband before marriage. She experienced the healing presence of God in a rape she experienced as a young woman. She cut herself off from the ancestral and idol worship in her family background in the name of Jesus. Her face beamed with joy the day after we prayed.

Another woman who cares for the spiritual nurture of about 3000 Christians was unwilling to forgive her husband. His desire for sex drove him to sleep for years with a variety of women and come home and pressure his wife to sleep with him. She has large tumors in her uterus. After several hours of prayer she made the decision to forgive her husband. She would leave the consequence of her husbandís action in Godís hands. Her decision was not to approve of the adultery but to no longer hold him accountable to her. She decided to stop trying to control her husband. She left the judging of her husband to God. It is not an easy road but she is already more able to be kind towards her husband.

One woman is in charge of a 40 bed orphanage. She was bringing an abandoned 5 month old baby girl to the hospital for surgery on her heart which had 7 maladies. Her husband treats her well but she had no love for him. She wanted a good relationship with him but she had very little respect for him. God moved in her heart and showed her how He viewed her husband. I called from Canada to see how she was doing. She told me with excitement that she felt love for her husband and their relationship was much better. She thanked me and I thank God for allowing me to be used by Him.

One man with a high-paced career met me for breakfast in a western restaurant. He used to lead Bible study groups in his home. He told me that he felt very remote with God. He realized that it was sin and business that caused the remoteness. I led him in asking for forgiveness from God for the fornication he had been involved in. We cut his soul ties with his fatherís side of the family who had been involved in sexual sin (father and grandfather). After we had finished praying he immediately said that he felt closer to God.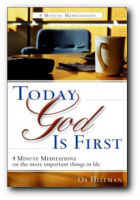 TGIF Daily Devotional

When does God call people to long-term missionary service?

* 21% were called as a result of a missions education service in their local church
* 20% felt God calling them after listening to missionary speakers
* 19% were called because of their own family's missions vision and conversations
* 10% heard God's call through reading missionary books

-- Terry Read, missionary and missions professor