In the quake: Believers keep baby alive with their prayers

As a national believer was looking for people who needed help, he heard a baby screaming. He could not see the baby, but heard his cries coming from a collapsed building. He started praying for the Lord to save this baby. Only this babyís father was out from under the rubble. This believer asked the father to sit down and pray together with him, using the name of Jesus. He told the father that Jesus would save his baby and any other family members if they were still alive. At this point, the baby stopped crying, and the only noise they could hear was the sound of him sucking milk!

A few days passed as they waited for a tractor to arrive to help move the rubble. Each day, believers went to the site to try to get the baby out, and they prayed there with the locals. Each evening the believers gathered to report on the dayís activities, and they prayed together for the baby.

The morning of the fourth day, the groupís leader went with the believer to check on the babyís situation. When they arrived, they heard the sound of the baby, as if it were sucking milk. The babyís father said that Jesus was feeding his baby. The fatherís faith was now strong.

Later that morning, they were finally able to rescue the baby. His mother and an older brother were found dead in the same spot and had been dead several days. But God protected one of the breasts of the mother and allowed milk to flow from the babyís dead mother for 78 hours!

Many of the local people saw and heard these believers praying in the name of Jesus and praising God. Many also said that they now believe that Jesus is the Savior. They also said that they want to know more about Jesus, and they asked the brothers if they could teach them about Jesus.
Source: IMB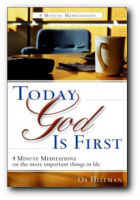 TGIF Daily Devotional

When does God call people to long-term missionary service?

* 21% were called as a result of a missions education service in their local church
* 20% felt God calling them after listening to missionary speakers
* 19% were called because of their own family's missions vision and conversations
* 10% heard God's call through reading missionary books

-- Terry Read, missionary and missions professor